Gerry Adams says dissident republican talks offer is genuine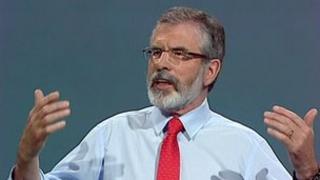 Sinn Fein President Gerry Adams has said his party's offer to hold talks with dissident republicans is genuine.
One dissident group, Republican Network for Unity, has accused Sinn Fein of not being serious in its offer of dialogue.
Deputy First Minister Martin McGuinness made the offer during a speech at the Sinn Fein ard fheis on Saturday.
Mr Adams told the BBC the move was "not empty rhetoric".
"Personally, I tried when I was based in Belfast, I contacted the various offices for people representing the various factions," he said.
"Let them steady up, let them test us. If that group wants to come along and talk to us, let them talk."
On Saturday, Mr McGuinness told the Sinn Fein party conference in Killarney he wanted to send dissidents the message that "the war is over".
"Come and tell us what you hope to gain by deluding yourselves and the gullible that your actions will succeed in what is certainly a pathetic and futile attempt to turn back the clock," he said.