Northern Ireland temperatures put Crete in the shade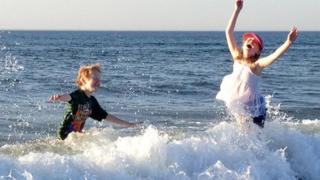 Packed beaches, street cafes full to capacity and copious amounts of barbequed meat.
That was how Northern Ireland celebrated the current heatwave.
We did not break any records with the temperatures over the weekend but we did beat the warmth of many Mediterranean sun destinations.
Sunday's hotspot was at St Angelo in Enniskillen where the Met Office thermometer recorded a very warm 24.7C.
That was enough to put the likes of Crete, Cannes (France) and Tunis (Tunisa) in the shade.
It was, however, cooler than Saturday when the mercury shot up to 25.3C at Magilligan on the north coast and still just shy of the highest temperature recorded in May.
That title belongs to Knockarevan in County Fermanagh which recorded a hot 28C on the 31st May 1997.
On Sunday night some places, such as Killowen in County Down, did not fall below 15C.
So, it is with little surprise, that we can expect temperatures once again to climb into the mid-twenties on Monday afternoon.
But Monday is going to be the last day of the settled warm and sunny weather.
Although we can expect the mercury to rise into the low twenties on Tuesday it will be a cloudier day with the risk of some thunderstorms.
And by the end of the week temperatures will have fallen back closer to what they normally should be for the time of year.