Balcony death accused pleads guilty to manslaughter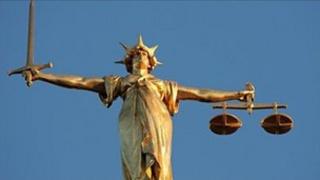 A 28-year-old north Belfast man who pleaded guilty to the manslaughter of a teenager has been warned he faces an "inevitable" jail sentence.
Mark Stephen Keenan, who had been charged with murdering James Murray, 19, in December 2009, was re-arraigned and pleaded guilty to manslaughter.
Mr Murray died after a fall from a ninth floor apartment balcony in King Street, Belfast.
Keenan was released on bail pending pre-sentence reports.
The murder charge was left on the books at Belfast Crown Court after Keenan, of Rosapenna Walk, pleaded guilty to the lesser charge on Monday.
Voluntarily
A previous court hearing heard that he voluntarily went to Antrim Road police station and told police he had been in a fight with the teenager but did not know how he had fallen from the balcony".
A prosecution lawyer told the court that having discussed the case with the Director of Public Prosecutions, a decision had been taken to accept Keenan's guilty plea to manslaughter.
The lawyer said Keenan and his family were "very conscious we are here today on a very sombre occasion" and in applying for Keenan to be released on continuing bail, he added that his client had been warned that "a sentence of imprisonment is inevitable".
Granting the bail application and adjourning passing sentence until after the summer break when pre-sentence probation reports and victim impact statements have been compiled, the Recorder of Belfast, Judge Tom Burgess, said he could understand why the prosecution accepted the plea to manslaughter.
"I think it's fair to say that the background of the tragic and awful events on this particular night were complex, at times confused and there are clearly reasons for that," said the judge.
Offering his sympathy to Mr Murray's relatives, Judge Burgess said: "Nothing I will be doing by way of sentencing will ever bring back this young man nor does any sentence represent the loss that they have suffered and will have to live with for the rest of their lives - that's the awful, awful tragedy and they certainly have my deepest sympathies and condolences."