Survey says NI house prices are continuing to fall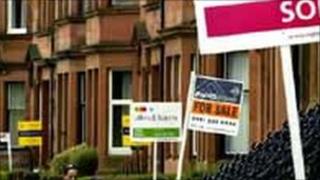 Average house prices in Northern Ireland are still falling. They are down almost 11% on this time last year.
The average price of a house in Northern Ireland is now about £134,560, according to the latest University of Ulster Quarterly House Price Index.
New builds accounted for a third of the 926 sales in the last quarter.
The most expensive area remains south Belfast, while the lowest average house price was in north Belfast.
The survey of 115 estate agents showed that of the properties that are selling, one third was priced below £100,000 and more than two thirds sold for less than £150,000.
The report was produced in partnership with Bank of Ireland and the Northern Ireland Housing Executive.
The authors of the report, Professor Alastair Adair, Prof Stanley McGreal and Dr David McIlhatton, said: "We consider the generally weaker market in the first quarter of 2012 reflects a lack of confidence arising from the poor performance of the UK economy, with buyers still deferring decisions because of economic uncertainty, rising bills and concerns about job security."
The report's authors added that the pattern of the quarterly house price index since 2009 was one of uneven performance, suggesting the recovery is likely to be highly variable and inconsistent.
The latest survey, they said, suggested that price levels may not yet have reached the trough of the cycle.
Alan Bridle, UK Economist at Bank of Ireland UK, said: "I believe the price correction in Northern Ireland is well advanced. The gradually slowing pace of annual price decline may be evidence of this.
"There are pockets of improvement in this survey, with the average prices now better aligned to local household incomes. However, given the wider economic backdrop and the availability of discounted properties, the short-term risk is that the market will overshoot on the downside, as it did on the upside."
The Housing Executive's head of research, Joe Frey, said: "This year's review of Northern Ireland's housing market confirms that it will be another very challenging year, not only for first-time buyers, but also for many existing home owners. It is important that Government and the private sector work together to come up with strategies to address the challenges."
Last week a new house price survey produced by government statisticians, which used stamp duty returns, put the average house price in Northern Ireland at the much lower figure of £98,500.