'Uncertainty' over Armagh apple crop due to weather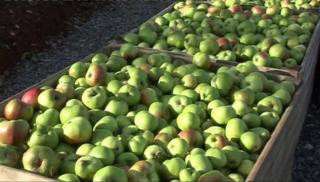 There is uncertainty over the apple harvest in County Armagh due to unseasonable weather over the past few months, a leading producer has said.
Armagh Bramley apples secured Protected Geographical Indication (PGI) status in March and the crop is worth millions to the local economy.
Apple grower Pat McKeever said poor weather in April and early May had "hammered" the orchards.
However, he said there was hope of a second bloom in the recent heatwave.
Investment
For the past six years, Mr McKeever had supplied apples to the cider manufacturer, Magners.
The firm usually buys more than half of County Armagh's entire Bramley apple harvest - amounting to an investment of almost £4m.
Speaking to BBC Radio Ulster, Mr McKeever said: "Nobody can tell yet what the crop is but I would say the crop will be down".
He explained: "We've had a bad April and the start of May hasn't been good. The first bloom got a bit of a hammering with the frost in the winter."
Mr McKeever said that crops were now "doing well" due to the fine weather over the past few days but it would be July or August before before producers could tell their buyers how this year's harvest has been affected.
"Every year varies - last year they got a good crop so hopefully there will be plenty of apples there this year for them too," he said.
Imitation
PGI status is awarded by the European Commission for agricultural products and foods which are closely linked to the geographical area in which they are either produced, processed or prepared.
The commission has said the aim of the PGI scheme is to "encourage diverse agricultural production, protect product names from misuse and imitation and help consumers by giving them information concerning the specific character of the products".
Other European products which have achieved PGI recognition include champagne and feta cheese.
In Northern Ireland, Comber potatoes and Lough Neagh eels have recently been awarded PGI status.