Serratia marcescens outbreak at Royal Victoria Hospital cardiac unit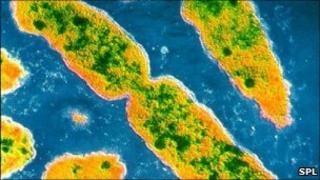 The Royal Victoria Hospital's cardiac unit is to be deep cleaned following an outbreak of a bacterial infection.
Additional infection control measures were introduced after Serratia marcescens was discovered in the unit, which remains open for admissions.
A number of operations have been rescheduled to facilitate the deep clean, Belfast Health Trust said.
The trust said there had been a "slight increase of an unusual bug", and it had been identified at an early stage.
It said it had "instigated additional infection prevention audits, independent hand hygiene audits, extra cleaning of medical equipment, and environmental screening to help locate the source of the outbreak".
Up to seven patients have tested positive for the bug.
Serratia marcescens is an organism that occurs naturally in the gut.
To have it on or in the body (colonisation) is not uncommon or harmful in healthy people.
However, in cases where people are vulnerable to infection, the organism can cause serious infection.