Call for zero tolerance on Northern Ireland paramilitary flags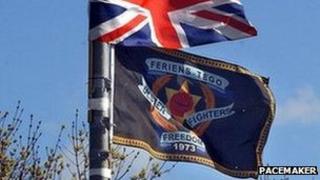 A draft Stormont strategy paper has expressed concern that seeking to remove illegal flags through dialogue may bolster the status of what it calls "self-appointed community gatekeepers".
The Cohesion, Sharing and Integration Strategy document says there should be a policy of "zero tolerance" towards the flying of paramilitary flags.
The draft paper was produced by a cross-party Stormont working group.
It calls for a zero tolerance policy towards paramilitary flags.
It adds that the executive's objective should be the removal of threatening and divisive symbols where they are used in an attempt to intimidate.
Whilst engaging in dialogue to remove illegal symbols can bring short term relief, the paper argues that there are risks to this approach.
The status of "self-appointed community gatekeepers" may be built up "at the expense of more legitimate community and political voices who don't associate with violence".
The paper says that all paramilitary symbols should be tackled in a strategic manner and the display of paramilitary flags or emblems on main thoroughfares or in sensitive areas needs to be tackled as a priority.
Last week, the Alliance Party quit the Stormont community relations working group arguing that its recommendations on issues such as flags were not strong enough.
The question will be whether the leaders of the other four parties can iron out disagreements on the strategy.
It is still a work in progress and we cannot say exactly when the strategy will see the light of day.