Police get new powers to deal with minor offences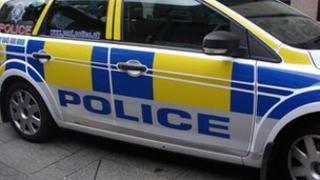 Fixed penalty notices for low level offences come into force in Northern Ireland next week.
Police officers will have the power to issue fines of either £40 or £80 to first-time offenders.
It is expected the new powers will result in 1,500 fewer people going to court each year.
Justice Minister David Ford and the police announced the new powers on Wednesday.
Under the new powers which come into force on 6 June, a first-time offender could receive a £40 fixed penalty notice for being drunk in a public place or an £80 for disorderly behaviour.
The powers are part of the Justice Act which passed through the assembly last year.
Mr Ford said the new powers did not mean the authorities were "being soft" on crime.
"Currently two-thirds of all crimes prosecuted through our courts result in the offender receiving a fine of £100 or less.
"Many of these cases involve individuals with little or no previous offending history, who have committed relatively minor offences which they admit in court.
"Fixed penalty notices will allow for these cases to be dealt with in a more efficient and proportionate way and at the same time free up vital resources within the criminal justice system."
Assistant Chief Constable George Hamilton said: "By issuing the fixed penalty notices, we cut down on the number of cases that are forwarded to the Public Prosecutions Service which in turn reduces bureaucracy and allows officers to spend more time out on the beat."
The £40 fines will apply to indecent behaviour (urinating in the street) or being drunk in a public place.
The £80 fines will be imposed for disorderly behaviour; behaviour likely to cause a breach of the peace; obstructing police; criminal damage (up to a value of £200) and theft (shoplifting up to a value of £100, where the stolen goods have been recovered and are still in a good enough condition to be resold or the retailer has been compensated) .
A £5 offender levy will also be added.