Court told of alleged UVF link to Simon Tang murder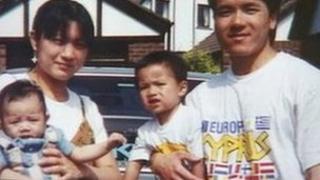 The murder of a Chinese businessman 16 years ago is allegedly linked to loyalist paramilitaries, the High Court has heard.
Simon Tang, 28, was beaten and robbed as he left his takeaway business in Carrickfergus in June 1996. He died later from his injuries.
In court on Thursday, prosecutors revealed police intelligence documents.
They referred to a suspected UVF association among some of those accused of involvement in the killing.
A judge was also shown photographs of new graffiti which claimed police were now targets after the inquiry into Mr Tang's murder was re-opened.
Details emerged as bail was granted to one of two men charged with murder.
George Robinson, 36, of The Hollies, Carrick, was released on cash sureties of £10,000 and ordered to stay away from the town.
Mr Robinson and his co-accused, Paul Allen, 38, of Drumhoy Drive, Carrick, were arrested earlier this month and deny any involvement in the killing.
Two anonymous witnesses, identified only as Witness A and B, have given evidence against them, the court heard.
A prosecuting lawyer told the court that one of them claims to have overheard a conversation between two men in a bar two weeks after the murder.
Opposing bail, the lawyer claimed the appearance of graffiti in the Woodburn area of Carrick showed tensions were running high. She said some of the painted messages read: "PSNI are targets" and "PSNI enter at your peril".
The court also heard further intelligence has emerged of an alleged connection to the UVF in the town.
A defence barrister said there was no evidence that Robinson had ever attempted to intimidate any witnesses.
Granting bail, the judge imposed a further condition that Mr Robinson could not leave Northern Ireland without giving police 24 hours notice. He is also to be electronically tagged and put on curfew.