Year in prison for ship crash captain Miroslaw Pozniak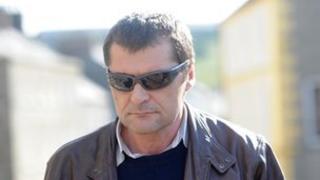 A sea captain who was drunk while in charge of a cargo ship that crashed into a passenger ferry in Belfast Lough has been sentenced to one year in jail.
Miroslaw Pozniak, 55, admitted crashing his ship while three times over the alcohol limit but said it was because of news of his wife's ill health.
He was at the helm when the ship crashed into the Stena Feronia, which was on its way from Birkenhead, Merseyside, to Belfast with 92 people on board on 7 March.
No-one was hurt but £1m worth of damage was done to both ships.
In his summing up the judge said the court had to take into consideration public safety and confidence and while no one was injured it was a frightening experience for those involved and there was a major amount of damage to both ships.
Downpatrick Crown Court had heard that Pozniak, 55, from Poland, failed to keep a proper lookout and failed to navigate his ship the Union Moon.
Damage
The court also heard that the Union Moon was more at risk of sinking had its bulkhead been damaged as the vessel had been carrying a heavy cargo.
Captain Allan Marsh who led the maritime and coastguard agency investigation showed the judge a 'live' map of Belfast Lough from his mobile phone to explain the path of the Union Moon.
He said it was 20 degrees off course, 'a significant alteration' when it hit the Stena Feronia.
The hearing heard the ferry, which was coming into dock, did not have time to move out of the way.
Captain Marsh acknowledged Pozniak, who wept in court, accepted personal responsibility for the crash.
Pozniak's defence barrister said his client has two grown up children in Scotland and his wife in Poland is ill.
The court heard her illness might have been a contributory factor for his drinking that night and he expressed deep sorrow and regret.
Pozniak, who had no previous record in his 30 years at sea, was sacked and the court heard it is unlikely he will ever work again as a captain.