Team bids to remove sunken digger in Fermanagh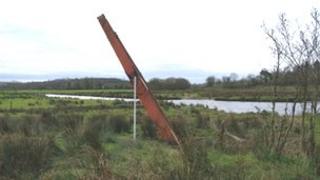 For nearly 20 years it has protruded from bogland in County Fermanagh - a 30 tonne digger which sank in October 1992.
Now a local farmer and a team of excavators, winch men and volunteers have set themselves the task of getting it out from the banks of Woodford Canal on the Fermanagh/Cavan border.
The digger sank in a bog near Teemore in 1992 during the construction of the Shannon-Erne waterway.
Farmer Sean Donohoe bought the digger a few years ago for £10. Now he is trying to excavate it for charity.
It is currently resting 12-15ft underground with only the jib visible in the bogland.
Mr Donohoe said: "Myself and my brother, Oliver, were there when the digger went down and always planned to make an attempt to take it out.
Submerged
"However, my brother died in 1999 from cancer and this galvanised my resolve to take on this challenge."
He said the team was confident they could get the digger out, but the marshy surface would be the biggest challenge.
"The ground conditions would be very unstable, we're talking about 20 to 25ft of very unstable ground," he said.
"There's a lot of water about."
Despite the length of time it has been submerged, Mr Donohoe said there was still a good chance the digger could be used again.
"There have been a couple of companies that have contacted us and expressed an interest in making the digger run again.
"There wouldn't be any oxygen getting to it, so it's probably perfect. It would have to be power washed and the engine would need work to get it to run again.
"It would be good challenge to hear the digger run again."
The team is raising funds for three charities: Northern Ireland Children's Hospice, Bailieborough Cancer Care and Friends of Cavan Oncology.