PSNI finish investigation into Cardinal Brady allegations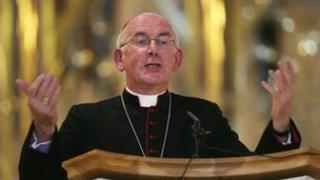 The PSNI has said clerical sex abuse referred to in a BBC programme did not take place in Northern Ireland.
The BBC's This World found that in 1975, Cardinal Sean Brady had the names and address of children being abused by Fr Brendan Smyth, but failed to pass the details to police or parents.
Smyth, a paedophile, continued to attack children for a further 13 years.
The PSNI began an investigation after the show was broadcast last month.
"Whilst we do not comment on the specific details of any investigation, we can confirm that none of the allegations within this programme occurred in Northern Ireland," a PSNI spokesman said.
"The PSNI continue to investigate allegations of clerical and institutional abuse in an investigation under Operation Charwell, which is currently investigating a total of 251 separate complaints which have been made to police.
"The vast majority of these complaints relate to incidents at least 20 years ago, but the overall time range is from five years to 40 years ago."
TUV leader Jim Allister said he was surprised that the PSNI had "ruled out prosecuting Cardinal Brady... for withholding information in respect of allegations of abuse investigated by him".
"This is a serious matter and one which I believe merited more detailed investigation than this timeframe could even have permitted," he said.
In a statement, the police said there was "no evidence of any criminality on the part of Cardinal Brady within Northern Ireland".
"The PSNI have consulted with and taken advice from the PPS on this matter," they said.
"As none of the offences within this BBC programme occurred within Northern Ireland, there was no requirement for the PSNI to interview or question Cardinal Brady."
In 1975, Cardinal Brady was a priest and teacher in County Cavan in the Republic of Ireland, when he was sent by his bishop to investigate a claim of child sexual abuse by a fellow priest.
That priest was later exposed as Smyth, who died in prison in 1997, one month into a 12-year prison sentence.
The first child to tell his parents about the abuse was the then 14-year-old Brendan Boland.
Cardinal Brady claimed the BBC exaggerated his authority at that time. He said he had "absolutely no authority over Smyth" and had felt betrayed that those in the Church who had the power to stop Smyth did not do so.