RAAD 'behind PSNI bomb attack' in Londonderry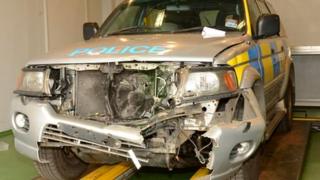 The vigilante group, Republican Action Against Drugs, has said it was behind a bomb attack on a police vehicle in Londonderry on Saturday.
The front of the jeep was badly damaged in what is understood to have been a pipe bomb attack in Creggan. The police described the attack as attempted murder.
Officers were conducting searches in Rathmore Park at the time. No-one was injured. Residents have claimed police were "heavy-handed" during the searches but the PSNI denied that.
In a statement on Monday, the PSNI said: "A number of searches were conducted in the area in relation to dissident republican activity.
"Police make no apology for tackling criminality in any form.
"Police carried out their duties in a proportionate manner with professionalism and respect.
"It is disappointing that the actions of police have been criticised, at a time when they are working to minimise risk to local residents."
The PSNI said anyone who was unhappy with any police actions should report it to the Police Ombudsman.
Stones were also thrown at police in the area by a number of youths.
Following the attack, Inspector Jon Burrows said: "Those who carried out this attack have shown callous disregard for the safety of the local community and my officers.
"It is only by sheer good fortune that we do not have a fatality on our hands as this attack occurred in a built-up residential area.
'Heavy-handed'
"My officers should be allowed to carry out their duties without the added pressure of misguided individuals intent on causing them harm."
On Sunday, 200 residents gathered in Creggan to protest at what community worker Seamus Heaney described as heavy-handed police searches.
"Very often it's the innocents who get caught up in the middle of all this, the wives and children of people who are maybe being pursued," he said.
"They get subjected to a lot of fear and what they would see as harassment.
"A lot of policemen coming into their house in the early hours of the morning or surrounding their car, to a young child, that's a very traumatic and frightening experience."
Mr Heaney acknowledged there were still people in the city who were "welded to violence as a means to perusing their political ends".
"I think there has to be greater sensitivity and the highest professional standards need to be adhered to in how searches are conducted," he added.