Belfast due to host peace building event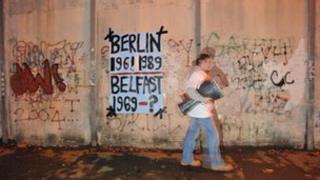 Hundreds of people are expected to attend a conference in Belfast which will explore how Northern Ireland can provide an example of peace building.
The European Foundation Centre's annual three-day gathering will be discussing how £175m of philanthropic grants have benefited social justice.
Delegates will debate how philanthropy can help divided communities resolve their differences. It is the first time that the conference has been held in the UK for 19 years.
John R Healy of Philanthropy Ireland said: "Belfast has emerged from 30 years of conflict to establish itself as an exciting destination.
"The city provides the perfect location for lively discussions on how philanthropy can help divided communities resolve their differences.
"Foundations active in Northern Ireland over the last three decades have learnt that grant-making has the greatest impact when it is focused on those who are most marginalized and those who advocate for social change."
Avila Kilmurray of the Community Foundation for Northern Ireland said the conference would use Belfast's historic backdrop to explore global peace and social justice issues.
"Innovative conference sessions and inspiring site visits will enable delegates to understand how a former conflict zone can move from a violent past to a vibrant present and they will learn how foundations can play a key role in supporting this process."
She also said a key area for debate would be how to evaluate philanthropy's impact in times of austerity.