Report says Belfast community safety warden scheme should "cease"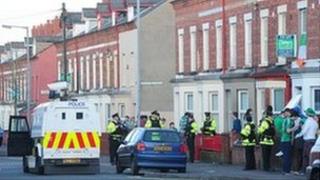 A report commissioned by Belfast City Council has said that the city's community safety warden scheme should "cease".
The scheme was launched in 2009 in order to help tackle anti-social behaviour across Belfast.
Twenty-three wardens are employed in 15 communities across the city, including the Holyland area.
However, the report concludes that the current service is not meeting its aims or delivering "value for money".
The partnership funding for the current scheme is due to run out in November 2012, and it would cost the council £73,000 per month to maintain it.
If the scheme did end, 21 of the wardens could be made redundant, while two staff would revert to their previous roles.
The community safety wardens carry out foot patrols in order to reduce and prevent anti-social behaviour like street drinking and rowdy behaviour.
The scheme was set up by the council in partnership with the PSNI, the NI Housing Executive and the local universities three years ago.
It was intended that the wardens would take on many of the roles taken by police community support officers in the rest of the UK.
Wardens permanently patrolled the university area during term time, and spent up to three months patrolling other areas of Belfast on a rotational basis.
Changes
According to a council briefing note, the critical report recommends that to improve community safety provision "the current service needs to cease".
It also states that the purpose, role and operation of any future warden scheme should change.
The report's authors consulted with parties represented on the council, some of whom suggested replacing the current scheme with one run by local community organisations or volunteers.
Some parties also suggested that the council pay for additional police officers in "hotspots across the city as a means of deterrence and enforcement".
The report also recommends that the purpose, role and operation of any future scheme should change.
It notes that "the current management arrangements have placed considerable strain on managers due to high levels of absence and performance management outside of working hours".
It also states that "there is a lack of awareness of the scheme within communities where wardens are deployed," and that the scheme has concentrated too much on patrolling the wider Holyland area.
Councillors are due to make a final decision on the future of the wardens in the autumn, following additional research and consultation with staff and trade unions.