Marion Millican murder accused had 'planned to kill himself'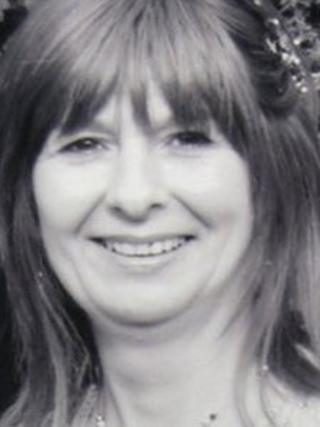 A man accidentally shot dead his former lover at a launderette in Portstewart, County Londonderry, while intending to kill himself, a court has heard.
Fred McClenaghan, 49, of Broad Street in Magherafelt, has gone on trial charged with murdering Marion Millican, as she ate her lunch on 11 March 2011.
The prosecution told a jury of ten men and two women at Antrim Court Court that what the accused did was no accident, but "murder pure and simple". Mr McClenaghan denies murder.
A prosecuting lawyer said that in the months before the shooting Mr McClenaghan had told counsellors of suicidal feelings, but he had admitted that his plan was "to kill my girlfriend and then himself".
Trial Judge Corinne Philpott QC also heard that Mrs Millican had been warned by police of the threat to her life, as she was planning to return to her husband, Kenny, after ending her often violent relationship with Mr McClenaghan.
The lawyer said that during interview Mr McClenaghan remained mostly silent, although his solicitor handed in a prepared statement which was read to detectives.
In the statement, he claimed he planned to take his own life in front of Mrs Millican and that her shotgun shooting was an accident.
"It was my intention to kill myself... and that Marion would witness my suicide."
The statement further alleged that he "did not mean to kill Marion".
It added: "I didn't intend to harm Marion... Marion's death was an accident and I am truly sorry."
However, the prosecution said that forensic tests "give the lie to the claim that her death was an accident".
The prosecution lawyer further claimed that Mr McClenaghan, angry at being rejected by the victim, had equipped himself with a shotgun and had deliberately shot her.
The trial continues.