Bangor Parish Church damaged in fire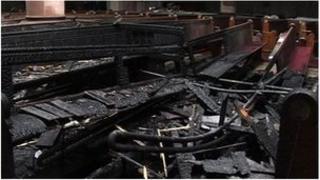 A passing police patrol prevented the landmark Bangor Parish Church from being destroyed in a fire, a senior detective has said.
The fire was started at about 02:00 BST in its roof, which was badly damaged
The inside of the 130-year-old Church of Ireland building on Hamilton Road was badly smoke-logged.
Chief Inspector Michael McDonald said his officers quickly alerted the Fire Service who managed to stop it from spreading further.
"They detected fire coming from the church and quickly sealed off roads and alerted the fire service," he said.
"I am convinced that their swift action saved the building from major damage."
'Saddened'
Reverend Nigel Parker said parishioners were shocked by the damage caused to the church.
"We are just very thankful that no-one was injured and that it was brought under control so quickly," he said.
"It is a very special place of worship and it is very saddening to see what has happened."
He said it could take several months for repairs to be carried out.
Fire station commander James McAllister praised the fast response of the police and fire crews.
"Within minutes they had got the fire on the roof of the church out," he said.
"The breathing apparatus teams were faced with intense heat. But because of the speed of the response from the crews, there has been a limitation to the damage."
Police are working to establish how the fire started.