Marion Millican 'knew she was facing death'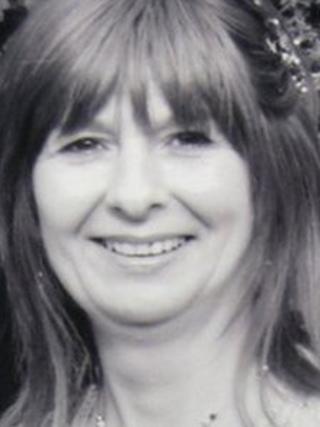 Marion Millican knew she was facing death at the hands of her former lover Fred McClenaghan, a court has heard.
The claim was made by a workmate of the 51-year-old who died after a shotgun blast to the chest.
McClenaghan denies murdering her in the Portstewart launderette where she worked.
Mrs Pamela Henry told police, in a taped interview, how she made a terrified dash for freedom leaving her friend with of 49-year-old McClenaghan.
McClenaghan claims he accidentally shot his former lover during a botched suicide attempt.
Mrs Henry's taped interview was played at the Antrim Crown Court trial.
In it, she said that as she made a run for the door she looked back to see "poor wee Marion her face was so white... she knew, she knew".
Nodded
She also claimed Marion had winked and nodded to her, and agreed with police that it appeared as if Marion was telling her to get out of the launderette.
Mrs Henry said that while she felt sorry for leaving her friend behind, she was absolutely terrified and in a panic and that "she had to get out.... I couldn't attempt to get her away with me".
In the 46 minute taped interview Mr Henry told how McClenaghan, armed with a shotgun, was "in a violent mood, a mad man, a man who was meaning business," who grabbed Marion by the arm, "shouting and roaring" that she leave with him to talk.
Although she refused to go with him, Marion, the court heard, was "trying to calm him down, but he wasn't having any of it".
Then suddenly McClenaghan aimed a shot into the ground, blasting a hole between where the two women were standing.
Mrs Henry said at this point she had to get out and "flew to the toilet" and bolted the door, which McClenaghan then busted open and tried to take her mobile phone from her.
The court heard that he failed, and she managed to escape and run to a nearby shop where she stopped a couple who raised the alarm after she told about what was happening.