Bail refused to Simon Tang murder accused over graffiti campaign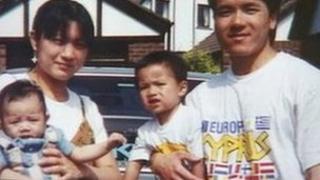 One of the men charged with murdering Simon Tang in Carrickfergus 16 years ago must remain in custody, a High Court judge has ruled.
Bail was refused to Paul Allen, 38, of Drumhoy Drive, after the judge heard of an "orchestrated campaign" in the town to thwart the police's investigation.
The judge was told graffiti has appeared which claims police are targets due to the reopened inquiry.
Mr Tang was beaten and robbed outside his Chinese takeaway in June 1996.
He died later in hospital from injuries believed to have been inflicted by a wooden bat.
Anonymous witnesses
Mr Allen and George Robinson, 36, from The Hollies, both in Carrickfergus, were arrested and jointly charged last month. Both men deny any involvement in the killing.
Three anonymous witnesses, identified only as Witness A, B and C, have now given evidence against the two men.
The court was told one of them claimed to have overheard a conversation between two men in a bar, in which one of them said they did not mean to kill Mr Tang.
A prosecution barrister said it was claimed it was Mr Allen who made the remarks.
Opposing bail due to fears of interference with the ongoing investigation, he added: "Police believe that the graffiti and general discontent in the area is inextricably linked to the arrest and charge of Allen."
Mr Robinson was previously granted bail on cash sureties of £10,000 and ordered to keep out of Carrickfergus.
Mr Allen's defence lawyer argued there was not enough distinction between the two accused to mean his client should remain in custody.
He also disputed the reliability of the witness evidence and questioned why one of them, thought to have been employed by Mr Tang, had waited 16 years to come forward.
"This matter quite rightly featured in Crimewatch and there was a reward of some thousands of pounds," he said.
"When one looks at someone coming forward 16 years later, and that person having a professional, if not emotional connection to Mr Tang, there are issues."
Refusing bail, Mr Justice Treacy said it was alleged that since court proceedings began, "there has been an orchestrated campaign on the ground about that time and (which) appears to be continuing to try and frustrate the police investigation".