DUP's Nigel Dodds becomes postman for a day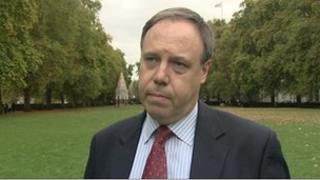 Some people complain that politicians only turn up on their doorstep at election time, and then fail to deliver.
The MP for North Belfast, Nigel Dodds, could be about to change their minds.
The DUP representative has left Westminster to become a postman - well, for one day anyway.
He joined Royal Mail postman David Allen on his delivery round in north Belfast on Friday morning.
Insight
Mr Dodds was the first of a number of MPs accompanying postal workers on their rounds across Northern Ireland over the summer.
Royal Mail said the purpose of the exercise is to "give each MP a unique insight into the challenges of delivering mail to every house and business in their constituency, six days a week".
Speaking beforehand, Mr Dodds said: "Postmen and women perform an incredibly important function in our communities, not just delivering communication, but being one of the institutions in society that binds us together for the common good."
He added that has was "looking forward to getting a real understanding" of their role and said there was "no better way of getting that insight than actually going out and doing the job".
Mr Allen - his colleague for the day - has been delivering mail in north Belfast for 23 years.
"I just hope I can keep up" said Mr Dodds.
It is not just speed he had to worry about - the growing popularity of internet shopping means that the burden of responsibility could weigh quite heavily on the DUP representative during his job share.
Modernising
Before setting out on his door-to-door duties, he got a briefing from Michael Kennedy, Royal Mail's regional operations director in Northern Ireland.
Mr Kennedy said his staff were "delighted" that the MP had taken up the offer, which would give the company a chance to show how it was modernising its operations.
"We've invested some £12m to date in new sorting and delivery equipment as we respond to the changing nature of the modern postbag," he said.
"We are delivering more parcels and fewer letters than ever before and the tools for the job need to reflect that."