SDLP's PJ McAvoy is Ballymena's first nationalist mayor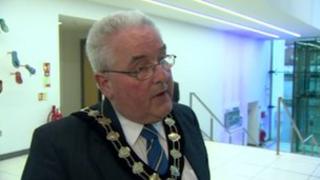 Ballymena Borough Council has elected PJ McAvoy as its first ever nationalist mayor.
The SDLP councillor, who has served as deputy mayor four times, said it was a "historic" development for the County Antrim town.
Mr McAvoy said he was "humbled" and added it would send out a message to the community about working together.
His newly elected DUP deputy mayor, Beth Adger, said the decision showed that Ballymena was "moving forward".
Mrs Adger confirmed that his election was "unanimous" and added that she looked forward to working with the SDLP representative in his new role.
'Honour'
Mr McAvoy said: "I've been in council now for 27 years, I have served four terms as deputy mayor, but this tonight is the big bonus".
He added: "I must say it's very good, the way the DUP is 50% of this council, but yet they saw fit to give me this honour tonight, so that in itself says a lot."
The new mayor said he would use his term of office to improve conditions for traders, help people in deprived areas and look after the town's growing ethnic minority population.
His DUP deputy was asked if Ballymena was likely to elect a Sinn Fein mayor in the future.
"Well I wouldn't go so far as saying that now, I don't know. I wouldn't predict on that one, so I wouldn't," Mrs Adger said.
Meanwhile, Omagh District Council has elected its first ever DUP chairman since it was formed 39 years ago.
Errol Thompson, who topped the poll in last May's local election, is in his first term as a councillor.