'Forget me' Michaela McAreavey accused tells father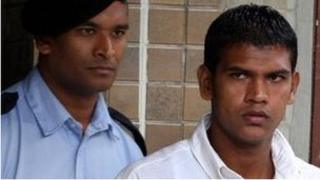 A man accused of murdering a young bride on her honeymoon told his father to forget him, he had made a mistake - a police officer has claimed.
Avinash Treebhoowoon, 30, and Sandip Moneea, 42, deny murdering Michaela McAreavey in Mauritius in 2011.
A police sergeant told the trial that Mr Treebhoowoon was visited by his father while in custody and police kept a record of the conversation.
He claimed that the accused said: "I have made a mistake, forget your son."
Mrs McAreavey, a school teacher from County Tyrone, was found dead in her suite at the Legends Hotel.
The court sitting in Mauritius on Friday also heard evidence from a room service waiter who claimed to have seen Mr Treebhoowoon inside the McAreaveys' room about half an hour before the murder.
He also claims to have seen the co-accused, Mr Moneea, walking towards the room at the same time.
Earlier, prosecutors decided they would not recall Mrs McAreavey's husband, John, to the witness stand.
A prosecution lawyer had Mr John McAreavey had "mixed up" some of the dates in his evidence on Wednesday.
Following an objection from the defence, he will not have to return to court to give a clarification.