Forgetful fan to be reunited with his Ireland Euro tickets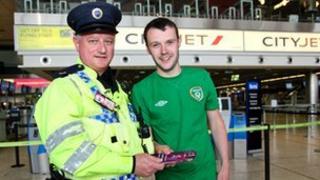 A forgetful Irish football fan who was the target of a worldwide web hunt has been found.
Damian Coughlan from Knocklyon, Dublin left his tickets for Ireland's opening group matches of Euro 2012 in a Dublin airport shop before flying to Poland.
Dublin Airport Authority used Twitter in an attempt to track down the owner of the tickets and the story quickly went "viral" on the internet.
His friend is en route to Poland and will reunite him with his tickets.
Ronan Davis, who is among a group of fans who were heading to the country to support the Irish team, was given the tickets by a Dublin airport policeman to pass on to his forgetful friend.
'Sick'
Mr Coughlan told BBC Radio Ulster that he accidentally left his tickets behind while buying a flag in the airport sports shop.
"I had to take out the boarding pass and passport and everything and I left them on the counter then, when I took everything out of my bag," he explained.
He found out that his tickets were missing - and that they had been found - in a phone call from his mother, who told him the story was "all over the radio".
He said there was only about one minute between his discovery that they were lost and being told that they were found, but said in that time he "felt sick".
Asked if he realised how much attention his lost tickets had received, Mr Coughlan said: "Well, I've got a friend in Australia and he rang me to tell me it's all over Australia, so if it got that far it must be everywhere."
He added: "I'm on Twitter! I've never been on that Twitter thing before, but apparently I'm on Twitter."
Damian had bought the tickets for the group stages in his father's name.
The tickets were found in the shop at 10:00 BST on Friday.
A family member heard the story on radio and phoned his mother.
The airport lines were buzzing with people wondering about those tickets - some of them even offered to buy them.
However, airport staff insisted that they were returned to their rightful owner.
"Dublin Airport and DAA (Dublin Airport Authority) are delighted to be able to send Damian his tickets," said Paul O'Kane at Dublin Airport.