Court told Mark Cassidy attacked his mother and partner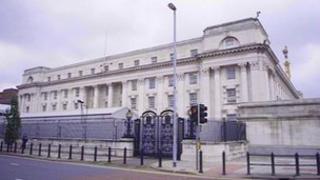 A man cut his mother with a hunting knife and jumped on her head after she intervened in an attack on his girlfriend, the High Court has heard.
Mark Cassidy is also accused of breaking a chair over his former girlfriend's head before kicking and punching her as she lay on the ground.
The court heard the attack happened on 1 January, following a heavy drinking session on New Year's Eve.
The 25-year-old, from Canterbury Park in Londonderry, denies the charges.
He claims his former girlfriend is making malicious allegations because he is now seeing someone else.
Bloodstained
The details emerged as he applied for bail to look after his father who is "frail and unwell".
His mother, Ann Cassidy, has died since the alleged incident.
The court was told police forced their way into a house in the city on New Year's Day and found Mrs Cassidy in a bedroom holding a bloodstained towel to her mouth, her face swollen.
According to the prosecution, she claimed her son tried to strangle her when she stepped in to stop a fight with his then girlfriend.
Mr Cassidy's partner at the time then alleged that he smashed her mobile phone after she was contacted by a friend, accusing her of seeing another man.
She claimed the accused threw a kitchen chair at her, hitting her on the back of the head and causing the chair to break.
She said he followed her into his mother's bedroom, head-butting her before the two women got him out of the room.
Mr Cassidy is alleged to have pushed a serrated hunting knife through a gap in the door, shouting at his girlfriend: "You're dead, you're dead."
Prosecuting lawyer, Tessa Kitson, told the court: "He then forced his way back into the bedroom and started to swing the knife towards his mother, grazing her right side and cutting her arm.
Chased
"The applicant came back into the bedroom and pushed Ann Cassidy onto the bed, jumped onto the bed and jumped on top of Ann Cassidy's head."
It was claimed that Mr Cassidy then chased his girlfriend to a neighbour's house, knocked her to the ground and punched and kicked her to the face, legs, stomach and sides.
She was said to have suffered facial and body bruising.
Although the accused's late mother never made a statement of complaint, the other woman did lodge formal allegations.
These were then withdrawn but have since been reinstated, the court heard.
A defence barrister argued that the accusations were false and fuelled by the break-up in her relationship with his client.
"He would say... she is disgruntled as a result of him splitting up with her and going on to form another relationship," the lawyer said.
He added that Mr Cassidy has urged police to examine his mobile phone to see the type of text messages being sent by his ex-partner.
The accused faces charges of assault occasioning actual bodily harm to his mother and attempted grievous bodily harm with intent to his then girlfriend.
He is further accused of possessing an offensive weapon, assaulting on police, obstruction and criminal damage to a phone.
The judge refused his bail application due to the risk of further offences.