SDLP leader wants NI Water meeting after flash flooding in south Belfast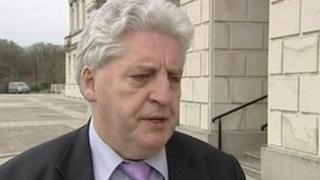 The SDLP leader Dr Alasdair McDonnell has called for an urgent meeting with NI Water following flash flooding in parts of south Belfast.
A fire engine was used to pump water out of Sicily Park.
The Fire and Rescue Service said the flooding was severe due to the volume of rain but has now subsided and firefighters have left the area.
Dr McDonnell said: "Flooding during heavy rainfall has been a consistent problem in parts of south Belfast."
He explained that on previous occasions property has been destroyed and said the situation was "totally unacceptable".
"I have contacted NI Water this evening to request an urgent meeting to address the ongoing flooding problems.
"Residents cannot be expected to continue to live in anxiety every time heavy rain is forecast," the south Belfast MLA said.