Fisherman films pod of 'killer whales' off Irish coast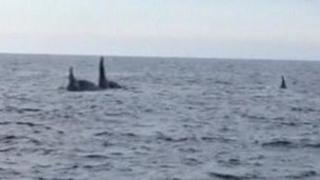 An Irish fisherman has filmed what is believed to be a pod of killer whales off the coast of County Donegal.
Kevin Doherty was on a fishing trip with a friend in Lough Swilly on Wednesday when they made the unusual sighting.
He said their boat was "surrounded" by six of the creatures.
Marine expert Emmet Johnston said he believed they were killer whales which had probably come from the Hebrides off Scotland in search of food.
'Fear factor'
Mr Doherty, who works as a bar manager in Bridgend in County Donegal, described the experience as "exhilarating".
He said: "It was so obvious by the sheer size of the orca and the dorsal fin that it was a whale.
"There was no doubt - this was no dolphin or basking shark - straight away we knew it was a whale."
However, he said there was also "a fear factor" and added that they had tried to keep their distance while filming.
"It was frightening at times, especially when you couldn't see them, when they were underwater maybe five minutes.
"You didn't know where they were and you just sort of hung onto the boat a bit harder at that stage," he said.
Mr Johnston said the whales were an indicator of how healthy the environment is off the coast of Donegal.
"You wouldn't get those apex predators, or top of the food chain - they are the like equivalent of a tiger on land coming into these waters - if it wasn't a healthy environment and we didn't have healthy fish stocks as well," he said.