Hollywood actor Brendan Fraser to close film festival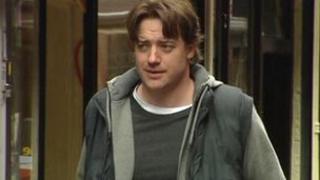 Hollywood actor Brendan Fraser will take to the red carpet in Belfast tonight for the closing of the Belfast Film Festival.
The final film, Whole Lotta Sole, is directed by the Oscar winning Terry George.
The Belfast-born director who is now based in the United States recruited Hollywood actor, Brendan Fraser, to play the manager of an antique shop.
The comedy was filmed in Belfast and Downpatrick.
It was partly funded by Northern Ireland Screen.
'Sounds a bit daft'
In the film, in a rowdy little corner of Belfast, hapless young father Jimbo Reagan (Martin McCann) gets indebted to a local mobster and goes on the run.
Jimbo holes up in an antique shop and unwittingly takes five hostages.
The Belfast Film Festival has been especially interesting for local actor Martin McCann from the Falls Road who has starred in three films shown at the event.
Speaking of this film he said: "It sounds a bit daft but then all the best comedies do."
Brendan Fraser, who has starred in The Mummy and George of the Jungle, described his time working in Belfast.
"It was an experience unlike any independent film that I've made.
"Everyone seems to pull together and really want to be there and really create the picture regardless of how difficult it is to get one of these things made these days."
Whole Lotta Sole will be shown in the Waterfront Hall in Belfast and the event will be hosted by the Office of the First and Deputy First Minister (OFMDFM).