Man charged after attack on schoolboy Philip Convery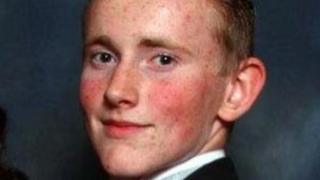 A 21-year-old man has been charged in relation to an armed robbery near Maghera in which a schoolboy was badly beaten.
The man was arrested in Belfast on Saturday. Another man, aged 28, arrested in England on Friday, is still in custody.
Philip Convery was beaten during an attempted robbery at his grandmother's house on Mayogall Road, Knockcloghrim on Tuesday night.
The teenager is in a stable condition.
The 16-year-old GCSE student suffered serious head injuries in the attack and at one stage was critically ill.
His 70-year-old grandmother and his 44-year old uncle were also assaulted and injured during the attempted robbery at the isolated bungalow.
They were also treated in hospital.
The 21-year-old charged is due to appear at Londonderry Magistrates Court on Monday.