Irish Met Office receives reports of Donegal tornado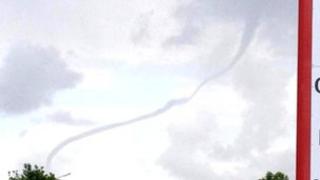 The Irish weather service, Met Eireann, has received unconfirmed reports from three people of a tornado in Donegal.
It happened over Sliabh Sneacht in Buncrana at 11:30 BST on Monday.
There are heavy and intense thundery showers in the area. The Met Office said the radar was showing heavy echoes.
Met Eireann said tornadoes were possible in such conditions and would not be unlikely over the next 24 to 48 hours.