Wilson blames oversight for spending details delay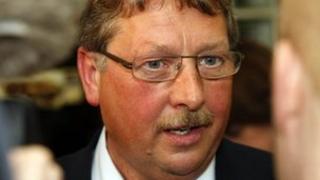 Sammy Wilson is blaming an oversight in his private office for a delay in giving the finance committee details of executive spending worth billions.
The finance minister has apologised to the committee, but one member has said he is not satisfied with the explanation.
The committee has to scrutinise the latest budget bill.
However, the minister failed for two successive weeks to ensure the figures were with the committee.
Last week an official told the committee that was because the minister was still considering the bill.
The minister subsequently wrote to apologise for the delay blaming an oversight in the private office.
The Ulster Unionists' Roy Beggs, who sits on the committee, has challenged the explanation.
"It seems to be very irresponsible that he has been delaying the bill and then he's blaming his private office and he's going off to America at such a critical time.
"I am seeking an explanation from the minister of what is going on."
He also said he was no longer content to fast-track the bill.