Sinn Fein pick Jennifer McCann as OFMDFM junior minister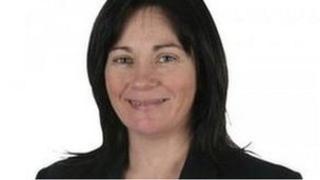 Sinn Fein MLA Jennifer McCann is the party's new junior minister for the Office of the First and Deputy First Minister.
The West Belfast assembly member replaces Martina Anderson, who is stepping down from Stormont to become a Member of the European Parliament.
It comes a day after Martin McGuinness announced he would resign as MP for Mid Ulster to concentrate on Stormont.
Sinn Fein's four other MPs are to resign from their assembly seats.
The party said it was seeking to end the practice of "double-jobbing", where politicians have seats in the Commons and at Stormont.
Party president Gerry Adams said the resignations would avoid triggering a string of Westminster by-elections.
It is likely that any by-election in Mid Ulster will not take place until the autumn.
The four MPs resigning their Stormont seats will be replaced by co-option.
In February, Executive Minister Alex Attwood unveiled plans to outlaw "double-jobbing" within two years.