John Major tells of 'mayhem' after 'hostile unionist' leak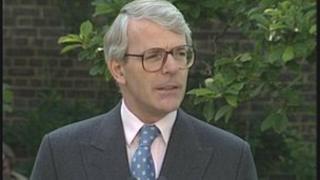 Former Conservative Prime Minister John Major has said there was initially considerable opposition to the Northern Ireland peace process.
Addressing the Leveson Inquiry on Tuesday he claimed that a framework document for peace had been leaked by a "very hostile" unionist source to the Times newspaper.
He said he pleaded with the Times not to print. But they went ahead and it caused "absolute mayhem".
The inquiry is examining media ethics.
The third module focuses on the relationship between the press and politicians.
Sir John Major was prime minister from 1990 until he lost the 1997 general election to Labour's Tony Blair. That defeat came after Rupert Murdoch's newspaper titles famously switched their support away from the Conservatives to Labour.
He told the inquiry it was "partly my fault that my relationship with the press wasn't too close" but he said a "too close a relationship probably wasn't for me".
He said it was "easier to be hostile about people you don't know than it is about people you know well" and the relationship worsened after 1992.
"I was much too sensitive from time to time about what the press wrote. God knows in retrospect why I was, but I was," he told the inquiry.