Maghaberry prisoner died from 'drugs cocktail'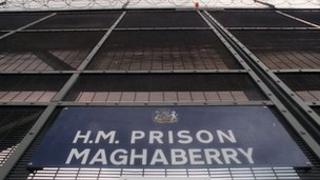 Prisoner Ombudsman Pauline McCabe has said she is worried there is an acceptance of illegal drugs within Northern Ireland prisons.
She made the comments after her report into the death of a Londonderry man who died after taking a cocktail of drugs in Maghaberry Prison in June last year.
Patrick Duffy, 49, was on a range of prescription drugs for medical problems during his two months in the prison.
It is believed he died after trading some of his tablets for illicit drugs.
The day before his death he was given 63 different tablets, but only two were found in his cell after his death.
It is believed Mr Duffy swapped the rest for a cocktail of three other illicit drugs, and died shortly after taking them.
'Inappropriate'
Ms McCabe has criticised the management of prescription drugs within the prison service.
In a report published on Wednesday, she said it was inappropriate for Patrick Duffy to be issued with a week's supply as he had a history of overdose and self harming.
Mr Duffy was committed to Maghaberry on remand on 20 April last year. He was facing charges of criminal damage and assault in connection with violence that followed an Apprentice Boys parade in Derry.
He had been in prison before and had a long and complex medical history. Prison medical records from 2008 state that he had suicidal thoughts, had deliberately injured himself on a number of occasions, and had a history of drug and alcohol abuse.
During his two months in Maghaberry, Mr Duffy had two episodes of self-harming, periods of supervised medication and failed a drugs test. In spite of that history, he was assessed as suitable to have possession of his weekly supply of prescription medication.
"It is fundamental that prescription medication is supplied safely with careful and continuous monitoring of any risks of misuse or particular vulnerabilities associated with the individual," the report states.
Speaking to the BBC, Pauline McCabe said she was concerned that Patrick Duffy has been issued with a week's supply of prescription drugs to administer without supervision.
'Clear evidence'
"Patrick Duffy has a complex medical history and a number of background risk factors that indicated an increased risk of abuse of medication and self harm while in custody," she said.
"I am concerned that he was issued all the medication he said he had been taking on a weekly basis, and that no attempt was ever made to contact his doctor to check if the claims he made about the medication he needed were actually true.
"There was clear evidence that he had misused his prescription drugs as he had overdosed a number of times, so the way his medication was managed and administered was not appropriate."
The ombudsman also said she was concerned about the availability of illegal drugs within prisons, and the attitude of the authorities to the problem.
"There is a huge issue with drugs in prisons," she said. "The availability of illicit drugs and the misuse of prescription drugs is a very significant problem.
"I think there is an underlying acceptance that there is and always will be a level of drugs within prisons and I think that is worrying."
In a statement, Justice Minister David Ford expressed his sympathy to Mr Duffy's family.
"This tragic case underlines the importance of the effective management of the use of prescription drugs within a prison setting," he said.
The minister said the report identified a number of areas of concern for both the South Eastern Trust, which has responsibility for health care within prisons, and the Prison Service.
He said a number of steps had been taken to address the concerns raised.