A Military Wife from Belfast performs for the Queen at Jubilee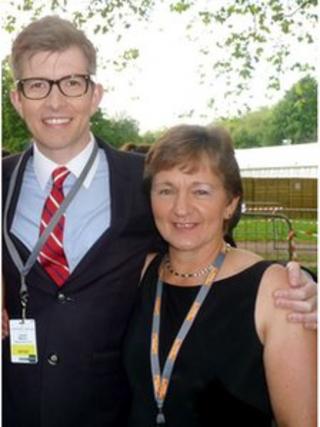 What is it like performing for the Queen at the most talked about concert for years and then go on to get a Number One single?
Karen Sharma from Belfast who is part of the Military Wives choir knows only too well as she performed for the Queen outside Buckingham Palace for her Jubilee concert.
"It was an immense pleasure."
Their single Sing has now gone on to be the fastest selling single of the year.
The song was written by Gary Barlow and Andrew Lloyd Webber for the Queen's Diamond Jubilee celebrations and features musicians from across the Commonwealth, the Military Wives choir - and Prince Harry on tambourine.
The Prince made his contribution - his recording debut - in Jamaica, one of four Commonwealth countries that Barlow visited while compiling the song.
Sing also features 210 musicians including the African Children's Choir, Aboriginal guitarist Gurrumul, Slum Drummers from Kenya's Kibera slum and the Royal Solomon Islands Police band.
Diamond Jubilee
On hearing the song had gone to Number one Mrs Sharma said: "It's amazing, it's really fab, great news.
"It's a real grower, it gets into your head. I've really grown to love it and obviously the nation has too."
Karen Sharma is originally from Belfast and now lives in England. Her husband joined the army in 1982 as a doctor. She is a member of the Catterick Military Wives choir.
Ten military wives choirs took part in the Jubilee performance at Buckingham Palace in front of the Royal family. Elton John, Tom Jones, Kylie Minogue and Paul McCartney were also on the line-up.
"We never would have imagined in a million years that we would ever get to perform for the Queen.
"It was a once in a lifetime experience and a great honour and immense privilege or all the military wives involved.
"The show was so exciting, the atmosphere was electric, when we walked out onto that stage it was quite overwhelming to see the crowds of people and the sea of faces.
"I was just hoping that I could open my mouth and actually sing when I got up there."
There are now over 40 military wives choirs across the UK but as of yet there are none in Northern Ireland.
"I have heard rumours there may be a choir set up at home. Hopefully it won't be too long before we can establish a choir in Northern Ireland."