Rathlin Energy confirm they will drill second hole in Ballycastle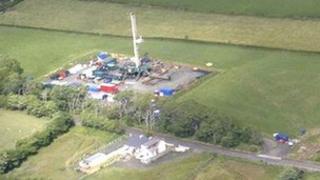 Rathlin Energy have confirmed that they intend to drill a second exploratory borehole at Ballinlea near Ballycastle.
The Canadian owned energy company have held the licence for oil and gas exploration in the North West since 2008.
During their initial explorations they found a small amount of oil.
Rathlin Energy have now completed further geological surveys and are in the process of finalising the location of their second exploration site.
Ballinlea
Local residents were invited to an open house event at the site of the original borehole to meet with executives from Rathlin Energy and discuss any concerns they had with them.
Rathlin Energy was awarded their exploratory licence in 2008 by the Department of Enterprise, Trade and Investment to explore the north coast for potential oil and gas reserves.
David Montagu-Smith, chairman of Rathlin Energy said: "Once we've gone through the analysis of the data we are bringing together our objective is to have chosen a well location by the autumn.
"We will then begin the process of a full planning application and that will take several months of preparation examining a lot of things that concern local people.
"We would hope by next year to be in the position to drill a well."
Although the meeting was primarily to inform local residents about the drilling of the second well concerns were raised by the residents about the controversial process of hydraulic fracturing possibly being used on the site.
Hydraulic fracturing is a process where water and chemicals are pumped down into rock, in order to cause a fracture and allow oil or gas to be released
A spokesperson for the company addressed these concerns "Rathlin Energy is still hoping to be able to extract any oil and gas it finds by a conventional drilling process. If for some reason that proves impossible, the company may in future consider hydraulic fracturing, but that's a very, very long way off. Anything the company does will be subject to strict planning regulations."
Local residents had mixed opinions on the prospect of the upcoming work.
Lisa McKee said: "I found their arguments unconvincing, they haven't allayed my fears at all. I'm concerned any work here could effect the foundations of the area from here as far as Limavady and the Giants Causeway.
However councillor Joan Baird who loves near the site thinks the work could be beneficial.
"I think it's a very good thing actually, it's good for the local area and it could be very good for Northern Ireland as a whole if indeed there is a substantial quantity of oil found."
Rathlin Energy plan to hold another open house event when the location of the new site is finalised.