Uncle's injuries 'like a punishment beating''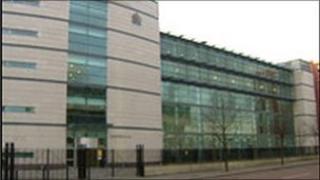 A man allegedly murdered by his nephews had injuries "more like a punishment beating," a jury has heard.
Mr Michael McCann told the trial of brothers Daniel and Gerard Gaskin that he saw his uncle Seamus Holland in an ambulance on 21 November 2010.
Mr Holland was "unrecognisable," covered in blood and with a swollen face, he said.
One of the crew described it as "looking more like a punishment beating", he added.
Mr McCann said he asked Mr Holland what had happened but that "he didn't want to tell me".
The jury of three men and nine women have already heard that 30-year-old Gerard Patrick Gaskin and his 22-year-old brother Daniel Bernard Gaskin, from Gortnamona Way, confessed to police about attacking their uncle Seamus Holland in his Upton Park home in the early hours of 21 November, 2010.
However, the brothers deny the murder of their uncle who died from later that day.
The brothers allegedly attacked Mr Holland over allegations that he had committed rape but prosecuting counsel told the jury on the opening day of the trial, their role, in dealing with the facts of the case, was not to determine whether or not he deserved to die, but how he died and who caused it.
The jury and trial judge Mr Justice Maguire have heard the brothers and their uncle were drinking together in his home at Upton Court but that soon after "an atmosphere" developed and they allegedly attacked him in the kitchen, the older Gaskin armed with an iron bar and the other kicking him about the legs and back.
The trial continues.