Views sought on Union flag at Belfast City Council properties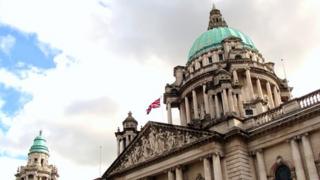 Belfast ratepayers are to be given the opportunity to put forward their views on flying the Union flag at properties owned by Belfast City Council.
The public will also be asked to comment on displays within the City Hall and its grounds.
The views are being sought between now and 1 October as part of equality impact assessments on the current policies.
The flag policy affects the City Hall, Ulster Hall and Duncrue complex.
The council operates more than 100 buildings but it said these three buildings have different functions and are used by different groups of people and it was therefore necessary to examine the impact of the policy at each building individually.
The second issue concerns the council's policy in relation to displays within the City Hall and its grounds, particularly in relation to the promotion of a good and harmonious environment.
Ratepayers are invited to attend public consultation meetings on 13 September in the Ulster Hall from 14:00 BST to 15:00 BST and a second session from 19:00 BST until 20:00 BST.
Comments can also be made through questionnaires and response forms which are available at the council's website .
The consultation process will remain open for 16 weeks.