Legal action over Runkerry golf resort development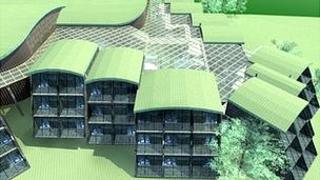 The National Trust is to take legal action over the decision to grant planning permission for a £100m golf resort on Northern Ireland's north coast.
An application to build an 18-hole golf course and hotel complex at Runkerry was given the go-ahead in February.
However, the trust has now said it is seeking leave for a judicial review of the decision.
The DUP MP Ian Paisley Jnr said he was "appalled" by the charity's actions.
The new development, on a 365-acre site, is to be known as Bushmills Dunes Golf Resort and Spa. It is expected to create 360 new jobs.
However, it has been one of Northern Ireland's longest running planning disputes.
The National Trust said at the time that it was convinced that "the planning application was contrary to a range of the department's planning policies".
On Wednesday, the charity confirmed the legal move saying it had "consistently opposed the planning application".
It added that, in particular, it was concerned that the entire development was on land zoned in the draft Northern Area Plan as the "distinctive landscape setting of the World Heritage Site in which no development should take place".
The trust said: "This is based on a recommendation by UNESCO - the body responsible for World Heritage designations - that there should be a buffer zone to protect the special landscape surrounding the Causeway."
The charity added that having "carefully considered" all the information relating to the planning decision, there remained "fundamental issues of concern".
It said it had "no option" but to seek leave for a judicial review, so that the decision could be given the "fullest possible consideration."
However, North Antrim MP Ian Paisley Jnr said the application had gone through "every twist and turn imaginable over the last 12 years".
"For the trust to now run to the courts in a tactic to delay and stall the process is nothing short of spiteful," he said.
"This is the same organisation who have a tourist centre paid for by public money on a world heritage site, a hotel on a world heritage site; and a money spinning car park also on the same world heritage site."
He pointed out that in less than three weeks the biggest golfing event in Ireland in the past 50 years would be taking place in Portrush.
"The National Trust are making it very clear they have no time and no place for anyone else."
The development will include a championship course, five-star, 120-bedroom hotel and 70 golf lodges and could be open for business in 2014.
It will be just over a mile away from the entrance to the Giant's Causeway, located at the junction of the Whitepark and Causeway Road, close to Bushmills.
In February, Environment Minister Alex Attwood said the decision to approve the development had not been "taken lightly".