Eight Belfast boxing coaches 'not vetted' by Access NI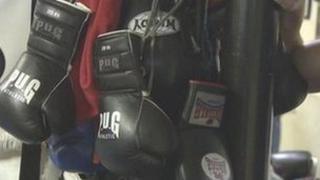 It has emerged that a number of boxing clubs in Belfast are failing to meet vetting requirements.
Anyone who works with young people and vulnerable adults - including sports clubs - is required to be vetted as part of child protection procedures.
In Northern Ireland that task falls to the government body, Access NI.
However, it has emerged that eight boxing coaches and almost a third of volunteers in Belfast have not gone through the vetting process.
There are 27 boxing clubs in Belfast, and a further four in Newtownabbey and Lisburn which are included in a strategy being developed by Belfast City Council.
The strategy is looking at areas like coach education and development, club support and also governance.
The council is undertaking this strategy with several partners including Sport NI and the Ulster Boxing Council and as part of that process, it asked the various boxing clubs in the city to fill in a questionnaire.
Criminal history
Among the questions asked are: "How many coaches and volunteers are Access NI vetted?".
Access NI provides information on a person's criminal history if they have one.
Twenty-seven boxing clubs responded and as a result it was discovered that eight coaches and 29% of volunteers at these clubs have not been vetted by Access NI.
As children and teenagers train at these boxing clubs, it is a legal requirement for adults to go through this standard vetting process.
Gerry Storey, who runs the Holy Family Golden Gloves boxing club in north Belfast, said they have a zero tolerance approach when it comes to vetting.
"Anybody who comes in through that door, even if they're in here to watch, if they're they're not vetted they're not allowed through the door," he said.
"It's a policy and we'll stick by that.
If the clubs are doing that and they think that's right, they haven't been honest with their board or their council.
"They should be aware of it, if they're going to be affiliated (to one of the boxing councils), they're not allowed, they're breaking the rules."
Paul McMahon, president of the Ulster Boxing Council, added: "You can call yourself a coach, if you haven't been Access NI or An Garda Siochana vetted, you're not a coach.
"If you're working in a boxing club, or allegedly working in a boxing club and you haven't been vetted, you're not a member of the Irish Amateur Boxing Association."
Mr Mahon said that no boxing club had any excuse for not understanding the policies and procedures outlined by the Ulster Boxing Council and the Irish Amateur Boxing Association and following through on them.
He added that he would like to be able to go to all boxing clubs to check that they are meeting the criteria but said the the funding was not there to support that.