Police federation calls for 'whole life' terms for killing officers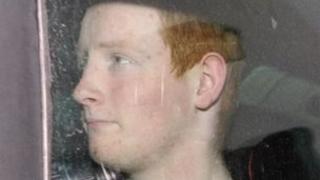 The union that represents thousands of PSNI officers has called for 'whole life' life sentences for those who kill police officers.
Police Federation chairman Terry Spence said the jail terms given to the killers of Constable Stephen Carroll had "sent out the wrong message."
Brendan McConville and John Paul Wootton were given life sentences. McConville will stay in prison for at least 25 years and Wootton 14 years, because he was 17 at the time of the killing.
Wootton's minimum tariff, the time to be served before being considered for parole, has been referred to the Court of Appeal after complaints that it was unduly lenient.
Constable Carroll, 48, was shot dead in Craigavon in March 2009.
Speaking at the federation's annual conference in Belfast on Thursday, Mr Spence said the killers "got off too lightly".
He pointed out that in England and Wales the minimum tariff for murdering a police officer is 30 years, while in the Republic of Ireland, it is a mandatory 40 years.
Addressing an audience that included the Justice Minister, David Ford, Mr Spence said: "The full outrage of the people of Northern Ireland must be reflected in future sentences.
"We demand that life should mean just that, a whole life sentence, no matter what age the perpetrator.
"If we don't take this opportunity to persuade young would-be murderers that a life sentence awaits them, then you are failing to protect our officers and failing to deter terrorists."
On Monday, Mr Ford announced a review of sentencing in murder cases, following an assembly debate about the sentence handed down to Wootton, who is now 21.
Mr Ford said the review would cover all murders.
He said Northern Ireland's sentencing guidelines were drawn up more than 10 years ago and it was time to take account of changes in other jurisdictions.
The justice minister said the review would start after the Court of Appeal had finished considering the sentence given to Wootton.