UUP extraordinary meeting over position on gay marriage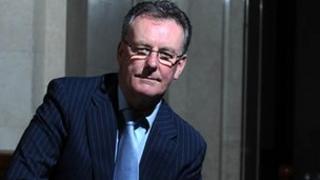 The Ulster Unionist Party leader has called an extraordinary meeting of its policy making body to affirm its position on gay marriage.
It follows controversial comments made by Ulster Unionist peer Lord Maginnis on Wednesday when he condemned "unnatural" and "deviant" practices.
On Thursday, party leader Mike Nesbitt said that the party's position on gay marriage was that it was a "matter of personal conscience".
He said that in his personal view gay marriage was "not necessary" because civil partnerships give same sex couples legal protection.
"I have called an extraordinary meeting of the party executive to affirm this position," he said.
"I have no desire to be a member of any organisation that equates homosexuality to bestiality."
Speaking during a discussion on gay marriage on BBC Radio Ulster's Stephen Nolan Show, Lord Maginnis said: "This is based on sexual practice, now does that mean that every deviant practice has to be accommodated?
"Will the next thing be that we legislate for some sort of bestiality?"
Afterwards, the party distanced itself from the comments.
In a statement, it said: "Lord Maginnis was speaking in a personal capacity without our knowledge or permission, and his comments do not reflect Ulster Unionist Party policy."
A gay and bisexual charity said his remarks were "reprehensible."
However, speaking later Lord Maginnis said: "I am not ashamed of what I said. I'm not ashamed of the stance I took."
Mr Nesbitt has already sent an email to party members saying party members wishing to speak to the media should "receive clearance from the party press office".