Buncrana hero Jason McClay nominated for bravery award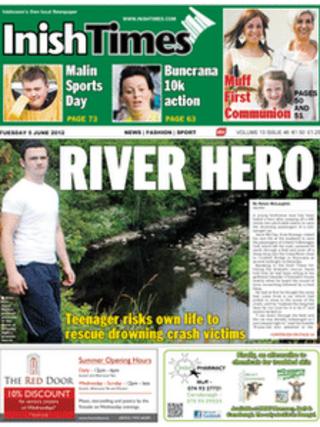 A Buncrana teenager who rescued two people after their car plunged into a river is to be nominated for a bravery award.
Jason McClay, 19, jumped 40ft into the Crana river near Cockhill Bridge in County Donegal.
He swam through the back window of the submerged car and helped two teenagers to safety.
The local council has praised him for his bravery, but Jason insists he does not need thanks.
The teenager was at home getting ready to go out when he heard the squeal of tyres.
"I ran up the field to the verge, looked down and saw a car in the water," he said.
"There were two people on the bank, I shouted to see if there was anyone else in the car."
When he got no answer, Jason jumped into the river and swam towards the car which was already underwater.
"The back window was smashed so I swam through it and checked if there was anyone in the car. There wasn't so I came back out.
'Tremendous feat'
"When I came out I saw a young fella struggling to swim and keep his head above the water, he kept going under.
"I helped pull him out onto the bank and then I noticed another fella in the water.
"He couldn't swim either so I had to get back in again to help him out. By the time I got them all across the guards had arrived."
When asked about what was going through his head during the ordeal he said: "I don't really think about it to be honest. I would just hope that someone would do the same for me."
The local council are now preparing to honour Jason for his bravery by recommending him for a national bravery award.
Councillor Peter McLaughlin praised the young man's courage and quick-thinking at the scene of the accident.
"The first thing he does is ask if anyone else was in the car and when nobody responded he took it upon himself to go and check.
"He looked around, he evaluated the situation and he did what had to be done. For a 19-year-old I think that's a tremendous feat."
In 2011, the Irish government gave out 18 awards in recognition of outstanding acts of bravery.