Mark Harbinson loses bid to overturn abuse conviction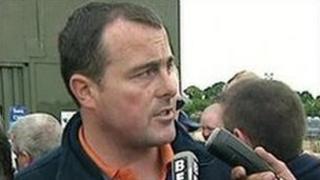 A prominent loyalist jailed for sexually abusing a 13-year-old girl has failed to overturn his conviction at the Court of Appeal.
Mark Harbinson, 45, from Stoneyford in County Antrim was jailed for three and a half years in May 2011.
The judges at the Court of Appeal said the evidence against Harbinson was "compelling" and ruled that the original verdict was safe.
At his trail he was acquitted of separate indecent assault charges.
According to the prosecution Harbinson had spent months grooming his victim, with more than 1,700 text messages sent between them.
Harbinson, who came to prominence during the Drumcree marching protest, protested his innocence during his trial and appeal.
His legal team appealed on the basis of the girl's allegedly unreliable evidence.
But Lord Justice Girvan, sitting with Lord Justice Higgins and Mr Justice Gillen, held that the evidence against him was compelling.
He said: "While the complainant's evidence on some of the details surrounding the events of the night in question may have been unsatisfactory we are wholly unpersuaded that the jury reached an unsafe verdict on the core allegations."