Police warn of Strabane cash machine fraud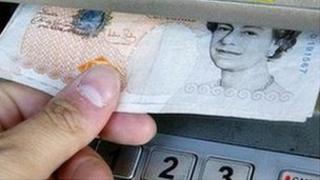 Police have warned people using ATM machines in the Strabane area to check their bank balance.
A PSNI spokesperson said they had received reports that money had been fraudulently removed from machines at Lifford Road and Melmount Road.
Strabane SDLP councillor Patsy Kelly said more than 30 people had told him they lost money at the two cash points.
Police said they have examined both machines and "at this stage no skimming devices have been found".
Speaking to BBC Radio Foyle, Patsy Kelly said that some people have had their accounts "cleaned" and have lost hundreds of pounds.
"It's alarming that these gangs have come in and set up these devices and got away with money from these accounts.
"But I do believe because it's fraud that the banks will refund people with their money," said Mr Kelly.
What is card skimming?
Card skimming is a process whereby the genuine data on a credit or debit card is electronically copied onto another card, without the legitimate cardholder's knowledge.