Assembly cull divides Northern Ireland parties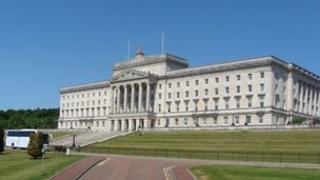 A reduction in the number of Stormont Assembly members is on the cards, but the political parties disagree about how radical any cull should be.
A committee report on the future size of the assembly will be debated by MLAs next week.
Under a boundary review Northern Ireland is losing two Westminster seats and the number of MLAs will be automatically reduced by 12 to 96.
A Stormont committee is considering if a more drastic cull is required.
The old Northern Ireland parliament, whose writ ran for half a century, had just 52 members in its House of Commons.
But when the Good Friday Agreement talks were under way, the British and Irish governments were keen to ensure the small loyalist parties got a foothold, so they boosted the assembly membership to 108.
Back then peace was the priority, but with the recession value for money has been the focus.
A recent independent financial review found that, partly because there are so many of them, Stormont MLAs cost far more per voter than their counterparts in Scotland and Wales, and there is little doubt a reduction would be popular with many voters.
Cull impact
The DUP wants a maximum of 80 MLAs and Alliance party agrees with this figure.
However, Sinn Fein has expressed concern about the impact a cull would have on smaller parties and independents and isn't prepared to agree in principle to any reduction.
The Ulster Unionists back a cut, but will not put a figure on it.
The SDLP is worried that reducing Stormont's membership below 96 will make it hard for MLAs to properly scrutinise government departments.
Unless the Stormont party leaders can narrow their differences, a 96-strong assembly looks like the most likely default option.
Another issue discussed by the committee has been whether Stormont should break its link with the Westminster constituencies.
One advantage would be that Stormont would then be in charge of its own size and shape, rather than having to fit in with changes made at the House of Commons.
Nationalists like this decoupling from Westminster - Sinn Fein argues that the creation of 11 new super councils represents an opportunity to bring together council and assembly areas.
But the main unionist parties are not convinced - the DUP says it is instinctively in favour of keeping the Westminster boundaries.