Smithwick Tribunal: Owen Corrigan denies he was IRA/Garda double agent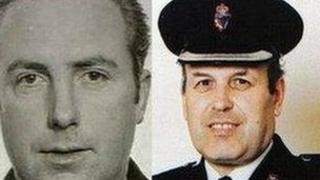 A retired Dundalk garda has rejected any suggestion he may have been a double agent working for the IRA.
Owen Corrigan was giving evidence to the Smithwick Tribunal in Dublin, which is investigating allegations of garda collusion in the IRA murders of two senior RUC officers in 1989.
Mr Corrigan, who has described himself as the "jewel in the crown" of garda detectives, had his intelligence-gathering record scrutinised at the tribunal.
The tribunal focused on 1985, as that was the same year that an RUC intelligence document named Mr Corrigan as having been "passing information to the IRA".
'Uneasy'
During this period, he filed 37 C77 intelligence reports. He said that any suggestion that his efficiency could be used as cover for being a double agent was "very insulting".
Counsel for the tribunal, Justin Dillon, questioned the value of some of the intelligence reports, claiming that few of them had been graded as important by Garda headquarters.
When asked about rumours of a mole within the police force, Mr Corrigan said the truth was that the IRA had been following the RUC officers for two months.
The retired detective sergeant said it was "well known to everyone in the border area" and the IRA did not need a mole to tell them the officers were in Dundalk Garda Station on the day of the ambush.
Referring to the frequency with which Supt Bob Buchanan crossed the border, Mr Corrigan said it made everyone "uneasy", but that he was such a likeable and sociable man that it was difficult to tell him about the danger in which he was putting himself and the garda.
Aborted trial
Mr Corrigan admitted that he had falsely accused a man from Northern Ireland who made a complaint of fraud against him of being an IRA member.
Patrick Gallagher, from Newry, was due to give evidence against him about a minor road collision, but changed his mind because he said he had been intimidated.
Mr Corrigan said it was his belief at the time that he was in the IRA, although there was never any evidence of this.
Mr Corrigan also made reference to providing escort duties in 1986 for the DUP's Peter Robinson during a court appearance in Drogheda, in connection with the loyalist "incursion" into the County Monaghan village of Clontibret.
He described how the car Mr Robinson and his wife were travelling in got stuck in snow and he helped get them out.
Tribunal lawyer Justin Dillon said another former garda disputed this and he would be recalled to give evidence to that effect.
Earlier on Tuesday, Mr Corrigan complained about his financial affairs being probed at the tribunal.
Mr Corrigan said it was "an absolute disgrace" that the tribunal was trying to "denigrate" him by publicising his private affairs, and said he would not continue to submit to the interrogation about how he financed a house purchase in County Meath in 1974.
Tribunal lawyer Justin Dillon said the inquiry had heard evidence Mr Corrigan was "greedy for money", which made him a risk, and it was proper that his finances were explored.
Tribunal chairman Judge Peter Smithwick told the witness that although he might prefer if the tribunal focused on his "heroism" and him being the "jewel in the crown" of Ireland's detective forces, he had hard questions to answer, which he must do.
Movements
The tribunal was also shown an old RUC intelligence document from July 1988, which was recently discovered in PSNI files, which stated that the Provisional IRA was monitoring the movements of plain-clothed RUC officers who were regularly travelling to Dundalk garda station.
This was in the aftermath of the murders of the Hanna family in an explosion at Killeen border crossing on 24 July 1988.
The document said all relevant officers had been informed of the threat.
It is not clear whether the two murdered officers were among that number.
The tribunal continues.