Protest over plan to close Derrylin school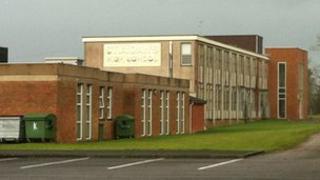 A protest has been held at Stormont over plans to close a County Fermanagh school and merge it with two others.
A review of post-primary Catholic education recommended that St Aidan's High in Derrylin, St Comhghall's College, Lisnaskea and St Eugene's College, Roslea, should merge to form one school for the area south of Enniskillen.
The principals have told parents that they support the plan. However, a parents' group opposed to the proposal lobbied MLAs at Stormont on Tuesday.
Derrylin parent Maria Nugent-Murphy said: "We have a good quality school in Derrylin. It has tremendous support from our community and from the parents in the school and we feel it is worth trying to fight to keep that school there."
If the plan goes ahead St Eugene's in Roslea and St Aidan's in Derrylin will close - with just St Comhghall's in Lisnaskea - serving South East Fermanagh.
Ms Nugent-Murphy said they wanted to maintain a school for 11 to 16-year-olds on the Derrylin site as it was not viable for people of Derrylin to travel to Lisnaskea.
She said public meetings had been held and there was "huge" support for their stance.
"There's a lake in the middle of it, there's no public transport between it.. the people in Derrylin will not go to a school in Lisnaskea," she said.
It is understood the schools face falling pupil numbers, the need to offer a wider choice of subjects and financial viability.
St Comhghall's, Lisnaskea has 370 pupils while St Eugene's, Roslea and St Aidan's in Derrylin each have about 170 students.
The three schools have sent out letters to parents saying they fully support the recommendation for one new school in rural south east Fermanagh.
The school principals said they had to take account of the educational and financial challenges and to make sure new arrangements were viable and sustainable.