Tourism expert: Causeway golf club would boost economy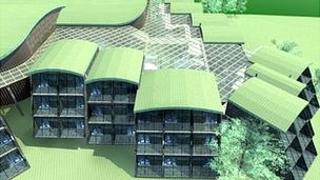 A leading tourism expert has said that a proposed golf resort near the Giants Causeway would be a boost for the economy.
He was speaking ahead of an international tourism conference which begins in Belfast on Wednesday.
On Tuesday, UNESCO said it would be asking the UK government to stop any building plans until the potential impact could be assessed.
The environment minister approved the planning application earlier this year.
Professor Stephen Boyd of the Ulster Business School said a new course would benefit the whole area.
"Developments like these are necessary if we are going to grow our tourism infrastructure and grow our tourism economy and I hope that UNESCO can see this.
"There's plenty of evidence across the world where there are many world heritage sites that are close to large modern development projects and they've not been stopped," he said.
"Tourism and Events: Opportunities, Impacts and Change" is the theme of the University of Ulster Business School's first international tourism conference taking place from 20-22 June in Belfast's Europa Hotel.
Tourism success
Organised by the Business School's Department of Hospitality and Tourism, the conference has attracted tourism chiefs and academic delegates from across the world.
It will focus on getting maximum benefit from events for key stakeholders as well as for the wider local and regional economy.
Tourism has been boosted with recent events like the Titanic centenary and MTV European music awards and there are hopes that will continue with upcoming events such as the Irish Open, Derry City of Culture and the world police games.
Professor Donald Getz from the University of Calgary in Canada is the key note speaker: "It is a great year for Northern Ireland when so many special events are held that can capture the world's attention.
"But there is a need for leveraging each and every event, for a long-term event tourism strategy to be developed and the management of a portfolio of events, both permanent and one-time," he said.
The three-day conference, which will begin at the Europa on Wednesday, will look at how Northern Ireland can maximise the benefits of events that take place here.