NFL to touchdown in Ireland with Pittsburgh Steelers?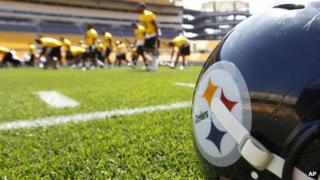 Is American football about to touchdown in Dublin?
The NFL is looking at the possibility of staging a second regular season game overseas, following the success of matches held in London.
Since 2005, the NFL has played a regular season game - a competitive mid-season match rather than a friendly or pre-season game - at Wembley Stadium in London, in front of enthusiastic crowds of around 80,000 each time.
It's an experiment set to continue in October, when the New England Patriots will face the St Louis Rams.
The success and appeal of this 'exported' fixture means that other cities now clamour to host a game, and with the NFL now considering a second fixture overseas, Dublin is emerging as a prime candidate.
Dublin has the stadium, Croke Park, the home of Gaelic games, which has an 82,500 capacity.
It also has an ideal advocate in the form of the US ambassador to Dublin.
Dan Rooney is also the owner of the Pittsburgh Steelers and is steeped in the history of the sport.
He describes himself as "the last man standing", pointing out that among the 32 families of team owners within the NFL, he is the one who goes right back to the very beginning of the Steelers' existence.
He was aged just one when his father, Art, started the Pittsburgh franchise in 1933.
He grew up among the legends of the game, and freely mentions the likes of George Halas, legendary owner of the Chicago Bears, and Vince Lombardi, the iconic coach of the Green Bay Packers in conversation at the US embassy in Dublin.
The Rooney family also proudly trace their roots back to Newry, County Down.
It's hard to think of a stronger candidate to lobby for bringing a regular season NFL game to Ireland.
"I think it'd be terrific," he says.
"We came over before back in 1997 and played a pre-season game.
Irish heritage
"But now, with the regular season games in London at Wembley proving so successful, and tickets selling out almost as soon as they're put on sale, I would think it would be good to play a game here, at Croke Park, as the interest in the sport is so strong."
A canny diplomat within the sport, Rooney says he has already lobbied Roger Goodell, the NFL commissioner, playing hard on the fact that Goodell's family heritage also happens to be Irish.
"We've talked about it," he grins.
"This year, with the Olympics in London, it just wouldn't be the year to do it.
"But I think sometime very soon it will happen and I think the commissioner is interested in working something out and, sure, I'd like to see the Steelers involved."
But Mr Rooney and his family represent just one voice among 32 owners of the league's teams.
Any move to bring a game to Dublin will need the consensus of all the owners.
This year, the NFL came to see Croke Park and discuss its suitability as a potential venue.
As Mark Waller, chief marketing officer for the NFL, explains, staging a game outside the United States is a formidable exercise for NFL teams.
He says there are a lot of boxes to tick before a venue is even deemed a feasible choice as host.
"When we bring a team over - we are bringing over at least 150 personnel - that's for each team.
"That's a massive infrastructural move and, I want to stress, with these overseas games it's also in the middle of our season. So, the logistics and planning side are key to the decision."
Passion
So, does Croke Park meet the league's criteria?
"We need stadiums that have availability in the middle of our season and the soccer season," says Mr Waller.
"We also need them to be large, able to take the levels of hospitality and corporate entertainment that we generate.
"We looked long and hard before we came to play regular season games at Wembley. Now we're looking seriously at playing two games internationally and, as we do that, Ireland and this venue in particular are very attractive to us."
If the NFL needed any proof of the passion for their sport in Ireland, a college football game between Notre Dame and Navy is being held in Dublin at the Aviva Stadium in September and is already a sell-out.
As ambassador Rooney tells us and will no doubt continue to tell his colleagues around the NFL, Ireland is more than ready to welcome America's Game.