Child care report 'deeply disturbing' says Irish minister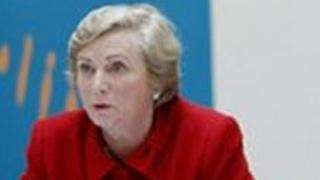 A report into the deaths of children whilst in state care in the Republic of Ireland, has concluded that the majority did not receive an adequate child protection service.
The report examined 196 cases in which a child or young person died between 2000 and 2010.
It found 112 of the deaths were from "non-natural deaths" and may have been preventable.
The Irish children's minister said the findings were "deeply disturbing".
The non-natural causes included drug overdoses, suicides, road traffic accidents or unlawful killings.
Speaking on RTE's Six One News, Frances Fitzgerald expressed her deepest sympathies on behalf of the government and state to the families of the young people who had died.
Ms Fitzgerald said the report showed a catalogue of failures, including a lack of proper co-ordination between state agencies, poor record keeping and a lack of proper risk assessment.
She said it was hard to believe child protection services were in such a state during the Celtic Tiger era.
The Irish government is trying to ensure that the most vulnerable children received the very best services and that "change has begun", she said.
The Report of the Independent Child Death Review Group recommends a root-and-branch reform of the child protection system in Ireland.
It said there was evidence of good practice in complex cases. But at times, good practice was sporadic and inconsistent.
Minister Fitzgerald said the report showed what happened when children were failed.
She said the findings were "a disgrace".
The minister said the report shone a light on a dark, often uneasy and tragic corner of Irish life and she believed that in any previous administration a report such as this might have been withheld or redacted.